PSBP THANKS THE MANY SPONSORS, EXHIBITORS, & VOLUNTEERS WHO MADE THIS FIRST WALK-A-THON AND HEALTH FAIR A SUCCESS!!!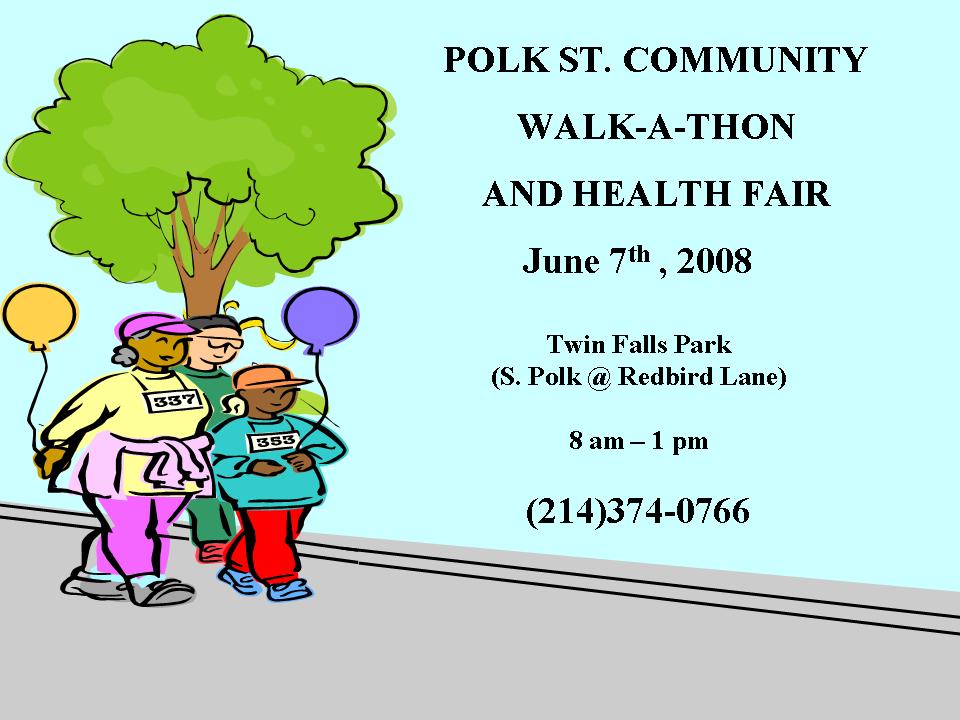 VOLUNTEERS NEEDED!

Please help us help our community .

******************************************

E X H I B I T O R R E G I S T R A T I O N I N F O

******************************************

 

WALK-A-THON INFORMATION

Come WALK with your neighbors, family,& friends for

"your health's sake"!

Our community walk-a-thon will be a fun time of healthy walking, uplifiting encouragement, and motiviation to "move on down the road" to great health. Whether you "Walk a mile"or finish the entire three mile trek, all participants will enjoy the benefits of fresh air, increased limb movements, and good ole heart pumping activity.

TO SIGN UP PLEASE COMPLETE THE INFORMATION BELOW AND SUBMIT.

 

Community Health Fair Information

The Polk Street Community Health Fair is open to all residents along S. Polk St. Health and wellness information for all ages will be provided by area health care professionals. Information about children, teenager, and senior health and safety,immunizations and healthy eating will be available. Healthy activities and games will be held for all ages.

A few of the planned booths are AARP, Alternative Remedies, Arthiritis Education, Back Health, Bicycle Safety, Breast Care, CPR and First Aid, Dental Care, Dialysis Info, Disability Awareness, Hand-Washing, Heart Disease, Home Health Care, Men's Health, Nutrition, Poision Control, Physical Activity, Women's Health, Stress Management and others.

 

PLEASE JOIN US FOR THIS COMMUNITY EVENT!



POLK STREET BEAUTIFICATION PROJECT

P O Box 765274 * Dallas, TX 75376

(214) 374-0766

Email: PolkStreetProject@hotmail.com